Michael Saylor: "Sell your 10 trillion dollar gold holdings and buy Bitcoin!"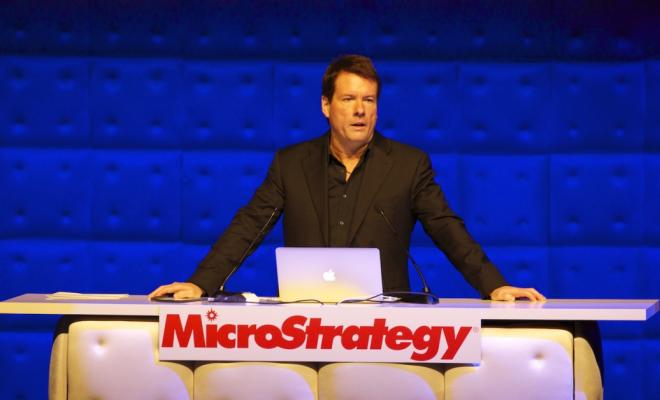 Michael Saylor, CEO of MicroStrategy, remains optimistic about Bitcoin and sees no more hope for gold as an investment.
Bitcoin (BTC) approached the $ 70,000 mark about a month ago, causing euphoria among investors as the prospect of it rising to over $ 100,000 before the end of the year. However, it has been falling again since mid-November and is now slowly crawling back uphill towards 50,000 – disappointing for those who bought expensive, promising for those who buy cheap now.
Michael Saylor, CEO of MicroStrategy, belongs to the second group. Speaking on Yahoo Finance Live, Saylor spoke about the Congressional hearing that was attended by several executives from crypto companies. He says the ultimate winner of the debate was Bitcoin. Everyone who traded gold for Bitcoin this year has had a positive result.
Exchange gold for bitcoin?
Saylor said that the inflation triggered by the pandemic was good for Bitcoin in particular. He even sees gold disappearing entirely as an investment; in his opinion, it would be best if investors sold their $ 10 trillion gold holdings and went into Bitcoin.
"The only thing threatened by Bitcoin is gold. The best you can do is sell all of your $ 10 trillion gold inventory and buy bitcoin. Gold hangs dead on the ropes. It's the worst performing investment, no discussion. There is no longer any hope. "
Saylor's remarks may be very transparent, because of course he wants to increase the value of his own preferred investment. There is some truth in what he says, however . The Bitcoin price has risen 63% since the beginning of the year and the gold price has fallen by over 9%.
More BTC for MicroStrategy
The price development has increased confidence in the future of Bitcoin, and MicroStrategy is betting on it. Earlier this week, Saylor announced the company's most recent Bitcoin purchase, which will continue to add to its August 2020 supply.
"MicroStrategy purchased an additional 1,434 bitcoins for approximately $ 82.4 million in cash at an average price of $ 57,477 per bitcoin. As of December 9, 21, we had purchased 122,478 bitcoins for about $ 3.66 billion at an average price of $ 29,861 per bitcoin. "
Saylor pointed to long-term inflation and the increasing global spread of BTC:
"I've said it before: Bitcoin will continue to rise."
Long-time gold fan Peter Schiff, who recently criticized Salvadoran President Nayib Bukele for wasting taxpayers' money, also had something to say:
"Of course you said that. And you will go down with the bitcoin ship. That would be ok if it was just your own money sinking. But you are also sinking the #MSTR shareholders' money, and I can only advise them urgently to get off the sinking ship. "