NFT Champions Is Launching Its $CHAMP Token Using the TrustSwap Launchpad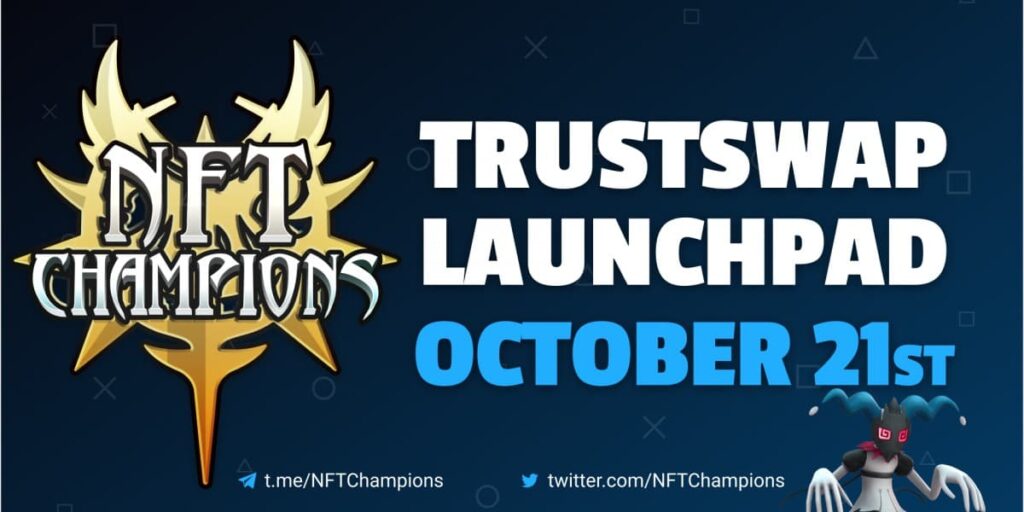 NFT Champions is finally ready to launch its native cryptocurrency, the CHAMP token, which will be an official currency within its game. The token sale is scheduled to take place this Thursday, October 21st, starting at 9 am PST, and will take place on TrustSwap's launchpad.
What is NFT Champions?
NFT Champions is an upcoming new game created by an American video game developer, SIGMA Studios. The company, based in Denver, Colorado, now also plans to launch a cryptocurrency that will be used within the game, and which will allow users to buy NFTs, or earn them as rewards for in-game achievements.
As the name suggests, the game will be relying heavily on NFTs. Its Champions, which are monsters that players can use for training and fighting, will come in the form of non-fungible tokens that players will first be able to mint, and then later buy from others, once the minting reaches its limit.
The game itself is also based on blockchain technology, and it is imagined as a next-gen game designed with Unreal Engine 4. Many of its developers are experts who have previously been working on major hits such as Halo, World of Warcraft, Fortnite, and alike.
Plus, it should be noted that the game is quite unique, as it will be the first play-to-earn NFT-based game out there. It was designed to be beautiful, immersive, as well as fun, giving users the ability to get their Champions and travel around, exploring the open world on their own, or with their friends. Of course, like every MMORPG, it is also highly recommended that players connect to one another and establish new friendships with others from all corners of the world, and participate in this metaverse together.
What you should know about the game?
The first thing to note is that players will be able to earn real money by playing NFT Champions, thanks to the fact that their rewards will come in the form of a $CHAMP token. The token will serve as an in-game currency, but it will also be listed on DEXes, making it available for purchase, likely in exchange for SWAP, ETH, and potentially other coins.
Inside the game, the tokens can also be used for buying Champions (NFTs), which are monsters that players will then train and use for fighting. The best way to earn cash prizes is to go against a raid boss, either alone or with friends. Going in alone will make the fights more difficult, but the player will be able to keep the entire reward for themselves. Meanwhile, attacking the boss as a group will make it easier to defeat, but the reward then has to be split among players.
Players can also fight one another, which is expected to be the ultimate challenge of the game, and this will also yield cash rewards for the winner.
Details about the token sale
The token sale will start on October 21st, at 9 AM PST. That is when the project will start allowing interested users to submit their applications. In order to prepare for the offering, participants will have to stake their SWAP tokens, take a photo of their ID, passport, or driver license, or some other document, and take a selfie of them holding their ID card with a note that reads "NFT Champions 2021".
These details need to be submitted to TrustSwap's Launchpad, after which participants can wait for the next step, which will be announced on TrustSwap Announcement channel. The official announcement can be found on TrustSwap's blog.
Users should keep in mind that, in case that the sale is over-subscribed, TrustSwap's community will have priority, with those who have staked the most having the advantage.
The application submitting period will last for 24 hours beginning on October 21st, after which a 48-hour waiting period will commence. As soon as the participants' applications are approved, they will receive an email notifying them of the maximum amount that they are allowed to contribute to the offering.
The token offering itself will also last for 24 hours during which users will be able to send their funds and claim their CHAMP tokens.
Those who miss this opportunity will be replaced by the next in line. Finally, the listing on the DEX will take place on October 27th, at which point the entire process will be over.